Holiday Visa Double Rewards Special
November 15 – December 31
Between November 15 and December 31, get double the points on your BHFCU Visa Signature Rewards credit card or double cash back on your Visa Cash Back credit card* after meeting the $500 minimum spend!
Why not get double the cash or points on your regular purchases like groceries and gas, plus those special holiday purchases? Did you know the average American spends $1,000 on holiday gifts? After you've met the $500 minimum earning your regular rewards on things you already buy, spending $1,000 on gifts means $30 cash back or 2,000 points*! Plan to double your merry this holiday season with BHFCU.

---
Double your cheer this holiday season with double rewards from BHFCU.
Earn 3% cash back on all your holiday stocking stuffers with the Visa Cash Back Credit Card.

Purchase hours of game time fun for $300 and earn $9 cash back.*

Earn double points on your holiday feast supplies with the Visa Signature® Rewards Credit Card.

Host a homemade holiday meal for $500 and earn 1,000 points.*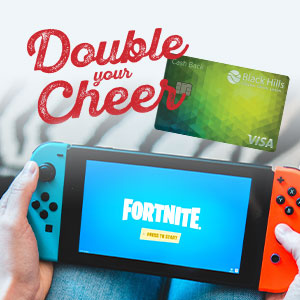 ---
*Terms and Conditions - To qualify and receive your bonus, you must make a minimum of $500 in Net Purchases (purchases less returns and refunds) between Nov 15 and Dec 31. After meeting the $500 Net Purchase minimum, you will earn double points (2 points per dollar) when using your Visa Signature Rewards credit card (VSR) or double cash back (3.0%) when using your Visa Cash Back credit card, up to a maximum of $5,000 of qualifying Net Purchases. Bonus Rewards are not earned on the first $500 of Net Purchases. Once the qualifying Net Purchase limit has been reached, the points or cash back amount will be scored pursuant to your program's standard terms and conditions. Qualifying Net Purchases do not include cash advances, balance transfers, unauthorized or fraudulent charges, account fees, and interest charges. This offer is not available to VCB or VSR cardholders currently participating in the New Credit Card Introductory Offer. Promotional bonus points and cash back will post to the Primary cardholder's ScoreCard® Account within two billing cycles after completion of the promo. To receive the bonus rewards, your loans with BHFCU must not be past due and your credit card loan must be open. Additional restrictions apply. Terms and conditions subject to change without notice. Please contact us at 605.718.1818 for details.