Take Control of Your Credit
Simplify your financial journey with free credit monitoring from BHFCU! Access score updates, set up credit monitoring alerts, receive instant offers, and more. Plus, check your credit report on demand, without impacting your score. Get started in Online Banking or our Mobile App.
Tools to Manage Your Financial Health
Analyze your credit score information, including payment history, credit usage, total balances, credit age, and recent credit. Learn more about each here.
Stay up to date on recent changes to your credit report
Learn more about the positive and negative factors influencing your credit score inside Online Banking
Take advantage of great money saving offers based on your credit report
Access additional information and resources about improving your financial health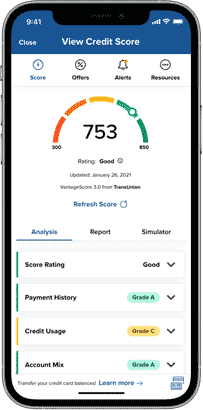 New Interactive Simulator Tool
Members can now simulate how a certain financial action (like buying a home or opening a credit card) would affect their credit score. Head over to the app or Online Banking to check it out.