Protect yourself from fraud. Do not share personal information.
We are aware that members are receiving fraudulent texts, phone calls, and emails that appear to be coming from BHFCU. We are not initiating these messages. Please contact us before providing any personal or account information, even if the message seems to be from BHFCU.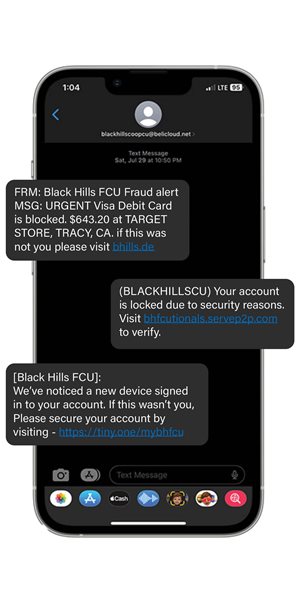 BHFCU will never send a text message containing a link asking you to:
Secure your account.
Verify your account to unlock it.
Prove a transaction is or is not fraudulent.
Provide your Online Banking username or password, authorization codes, social security number, or other personal information.
Scam artists succeed by tricking people into sharing personal information. If you receive a communication that you think may not be from BHFCU, don't respond to the message or click the link! If you've clicked a link or provided personal information, please report it to us by calling 605-718-1818.