4 Ways to Identify Text Fraud
With text messaging fraud on the rise, it's a good time for a refresher course on the signs to keep an eye out for. Read on to increase your ability to spot red flags and stop fraud before it happens.
#1 – Never trust a link, especially an odd-looking one.
A link in a text message about your finances is almost always fishy. Take your time to look at the details. Seeing a string of letters and numbers? Or maybe words you associate with your financial institution, but they're not quite right? These are red flags. Do not click on the link!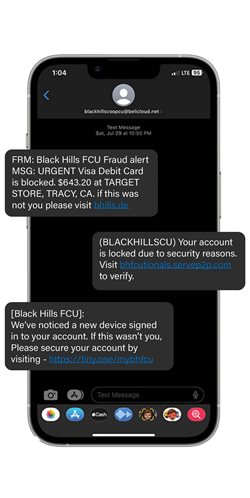 #2 – Always check the sender.
Treat texts from odd phone numbers or emails with caution. Maybe it's a string of numbers again or an email using those buzzwords that seem a bit off. That feeling you're having about the sender's information is right on. Trust your gut.
Tip: Utilize your phone's message filtering settings to keep messages from unknown senders at bay.
#3 – Ask yourself questions about the topic.
Does it seem strange that BHFCU would text you about making a transfer or transaction? That's because it is! BHFCU will never send a text message containing a link asking you to:
Secure your account.
Verify your account to unlock it.
Prove a transaction is or is not fraudulent.
Stop a transaction from processing.
Provide your Online Banking username or password, authorization codes, social security number, or other personal information.
#4 – Keep an eye on grammar and spelling.
Does what you're reading in that text not make much sense? Are you seeing grammar and spelling errors? These little things can be a sign that something isn't right.
It's important to take precautions to keep your personal information safe:
Review your account activity and statements often to spot suspicious activity sooner.
Enroll in real-time alerts like BHFCU's Card Controls and Alerts.
Regularly update your passwords.
Enable two-factor authentication when available.
Learn more about how to stop fraud in its tracks here.