Pay With Your Phone
Use your smartphone to make purchases online and at many of your favorite stores. Add your BHFCU debit or credit card to your Apple, Android, and Samsung devices.
It's never been easier to pay merchants
Download and use Apple Pay, Android Pay, and Samsung Pay with your personal or business accounts
Look for the Pay Wave or Apple Pay symbol and hold your phone near the terminal while placing your finger on the TouchID™ pad for Apple Pay
Samsung Pay and Android Pay work similarly. Look for the Pay Wave symbol and hold your phone near the terminal and place your finger on the fingerprint reader or enter your password
Payments are automatically deducted from your BHFCU debit card or charged to your BHFCU credit card, depending on which payment method you choose in your Mobile Wallet
Only your device account information is transmitted to the reader, not your card information, which enhances security
Set up Apple Pay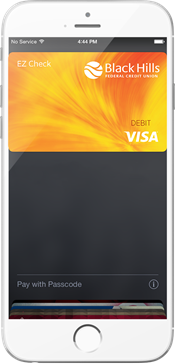 Get started by adding your debit, credit, or prepaid cards to your iPhone, iPad, Apple Watch, or Mac.
Go to the Wallet App and tap Add Credit or Debit Card.
Follow the steps to add a new card. You will be prompted for a one-time entry of a few account details, like your name, address, card number, expiration date, and the three-digit card verification value (CVV) that can be found on the back of your card.
If your BHFCU VISA card is connected to your iTunes account, you may be offered an option to use it as your default account for Apple Pay. You can add other cards as well.
Visit apple.com/apple-pay for more details
*
When entering card details
, only raised letter cards can be read by camera. Flat card information will need to be entered manually.
Set up Samsung Pay
If the app is not preloaded on your Samsung phone, download the app in your Google Play Store.
Once you have the app downloaded on your Samsung device, open the app and sign in or create an account.
Open the Samsung Pay app and touch ADD
You can either allow the app to access your camera to capture your card information, or you can enter card manually
Once your card information is complete, touch NEXT
You will then be prompted to receive a One Time Passcode. Retrieve your passcode and enter it in the app and touch SUBMIT
Next you will enter your signature and touch SAVE, then DONE
You can use your fingerprint, PIN, or password for your verification method. If you use a PIN or password instead of your fingerprint, you will be required to set one up for your phone if you do not already have one set up
Visit samsung.com/us/samsung-pay for more details
Set up Android Pay
For most Android Phones with OS KitKat 4.4 or higher and NFC capability.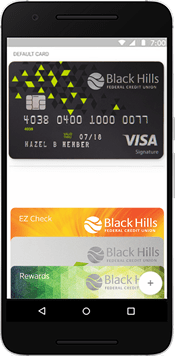 Simply download the Android Pay app from the Google Play Store
Open the app and touch the + symbol
Follow the instructions to add your BHFCU cards
You will then be prompted to receive a One-Time Passcode. Retrieve your passcode and enter it in the app.
if you do not already have a screen lock set up, you will be prompted to set up a PIN or fingerprint ID.
To make a purchase, unlock your phone, hold it up to the point of sale terminal and wait for the checkmark.
Make sure your BHFCU card of choice is selected as the default card.
Visit android.com/pay for more details.
Troubleshooting
If you experience problems loading your card, call
605.718.1818
so we can help. We're available Monday through Friday, 8 a.m. to 5 p.m. During the call, we'll verify your identity and then activate your card with your Mobile Wallet.

Mobile Payment FAQs
How do I change my default card to my BHFCU card in Apple Pay?
The credit or debit card associated with your iTunes account or the first card you add to Apple Pay is automatically your default card. To change your default card:
Go to Settings – Wallet and Apple Pay
Tap "Default Card"
Choose your BHFCU card
Which merchants are participating?
You can use Apple Pay, Samsung Pay or Android Pay at more than 220,000 locations, including Subway, McDonald's, Foot Locker, Walgreens, Office Depot, Lynn's DakotaMarts in Hot Springs, Custer and Lead, and
many other merchants nationwide
.
Apply for a Card