BHFCU's Skip-A-Pay is back!
Need a break from making your loan payment this summer? Skip a payment* on your existing BHFCU vehicle, recreational vehicle, or personal loan. Beginning May 22, 2023, apply to skip a payment* between June 1, 2023, and July 31, 2023, for a $25 fee.
There are several easy ways to sign up:

• Log in to BHFCU Online Banking and click the Skip-A-Pay link
• Call 605.718.1818
• Visit your favorite Member Service Center
• Click on the Skip-A-Pay icon in the BHFCU Mobile App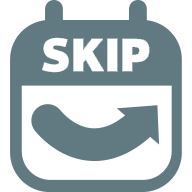 ---
*By utilizing this program, you are choosing to skip a payment on your BHFCU loan(s). Skipping a payment, and the accrued interest, will extend the maturity date of your loan(s). All other terms remain unchanged. Subject to approval and loans must be current. Lines-of-credit, credit card loans, paycheck privilege, quick pay, business loans, loans secured by real estate (including all mortgage types) or mobile homes, and balloon RV loans are not eligible. A $25 free will be charged for each loan you choose to include in the Skip-A-Pay Program.