Get Your South Dakota Auto Insurance
From freak hailstorms to major fender benders, make sure your car or truck is properly covered for all of life's unexpected moments. BHFCU Insurance's friendly, knowledgeable agents are here to explain your coverage options. BHFCU Insurance can help determine the best deductible for your driving habits, as well as match you with any discounts that may apply. BHFCU Insurance works hard to make sure you are paying the lowest premium possible for your coverage needs. Call us at
605.718.7888
or text at
605.937.7836
to start your
FREE
insurance review today!
South Dakota Auto Insurance Coverage
BHFCU auto insurance coverage includes, but is not limited to:
Bodily injury liability: Covers the costs associated with injuries to other people involved in an accident.
​Medical payments: Covers the treatment of passengers and yourself when injured in an accident.
Property damage liability: Covers the damage you caused to someone's property.
Collision: Covers the damage to your vehicle from a collision.
Other than collision: Covers the damage to your vehicle caused by hail, fire, vandalism, etc.
Uninsured/Underinsured motorists coverage: Covers you and your passengers if the guilty party does not have enough coverage.
Rental/Loss of use: Covers a replacement car while your vehicle is being repaired from a covered loss.
Roadside assistance: Covers you if you have a flat tire, lock your keys in your car, run out of gas, etc.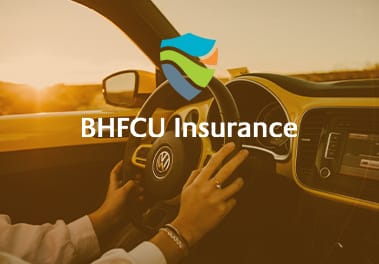 Request A Quote

Insurance Support
South Dakota Insurance Agents