Hall of Fame Level Lending
At Black Hills Federal Credit Union, our mission is to improve lives. That mission is brought to life every day by our nearly 350 staff members. That's why it came as no surprise when the Home Builders Association of the Sioux Empire nominated our own Candice Menke to their Hall of Fame.
After being postponed, the Hall of Fame induction took place on Friday, April 23. The nomination to the Hall of Fame was very unexpected for Candice.
"I was humbled and flattered when I learn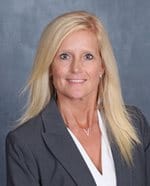 ed of my nomination," Candice said. "I have been very active with the Home Builders Association of the Sioux Empire for quite some time, but to have accomplished this honor so early in my career was a big surprise."
Having been very active with the Home Builders Association of the Sioux Empire throughout her career, Candice has also received an associate of the year award on local and state levels. In addition, at the national level, she's had opportunities to represent the state and BHFCU.
Candice graduated from SDSU and began her career in financial services in 1997. After spending nearly 20 years at local banks and in corporate banking, Candice was interested in getting back to her passion, community lending. The timing was ideal. Three years ago, when BHFCU first began serving Sioux Falls, Candice was looking to make a move back to serving her community.
As a Mortgage Loan Originator at BHFCU, Candice explains her job in three simple steps. First is the initial meeting to get to know the people and understand their goals, second is identifying their needs, and third is determining ways she can help them improve their lives financially.
"You know you've done a good job when a satisfied member shares their positive experience with others," said Candice. "The biggest compliment is when a member tells their friends and family to come to you for their financial needs."
She says it's easy to be passionate about what you do when you're proud of what your company stands for. Candice has enjoyed introducing the Sioux Falls area to BHFCU as a lending option with a passion for improving the community and the lives of those we serve.
When she's not working for her community, Candice enjoys playing golf and hiking with her family. Her five boys continue to keep her busy with sports, something that she loves.
From all of us at Black Hills Federal Credit Union, congratulations to Candice Menke for the well-deserved induction into the Home Builders Association of the Sioux Empire Hall of Fame.