BHFCU's Employee-Driven Program Raised Over $85,000 for Charity in 2022
At Black Hills Federal Credit Union, our mission is to improve lives. This includes offering employees ways to support their communities. That's why we developed the Community Action Team (CAT) Program over three decades ago! The CAT Program is run internally by staff, allowing them to give to causes they find important while making connections in the community.
Our charitable giving doesn't stop there. The Black Hills FCU Charitable Fund allows us to offer additional financial support to local nonprofit organizations.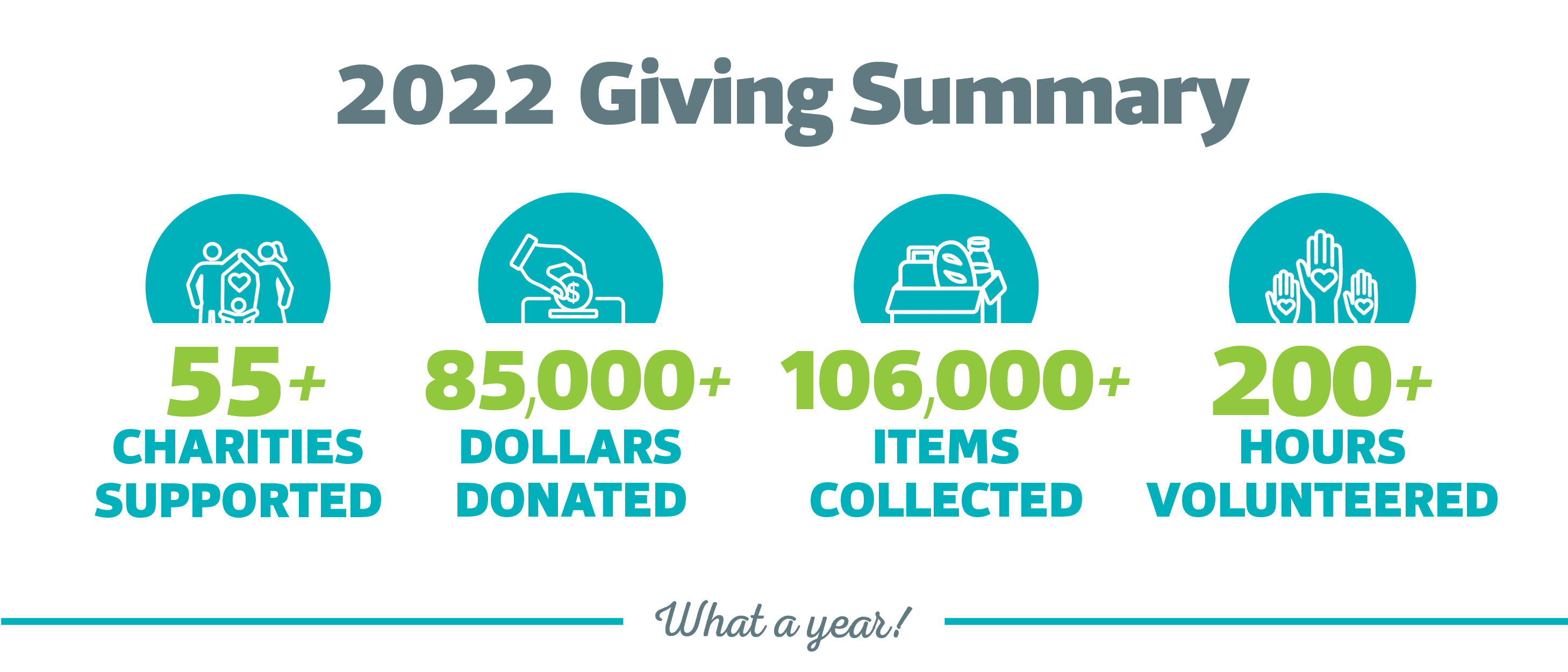 2022 Supported Organizations & Causes
Adopt-A-Mile
Alzheimer's Association
American Foundation for Suicide Prevention
American Heart Association
Autism Society of the Black Hills
Battle Mountain Humane Society
BHFCU's Annual School Supply Drive
Big Brothers Big Sisters
Black Hills Area Humane Society
Black Hills Children's Home
Cheyenne River Youth Project
Children's Miracle Network
Cornerstone Rescue Mission
Country Cupboard
Custer YMCA
Custer Food Bank
Feeding South Dakota
Fork Real Café
Fort Meade Veterans Home
Front Porch Coalition
Habitat for Humanity
HOPE Center
Kidz Cutz – 5 Star Cutz
KOTA Care and Share Food Drive
Lakota Voice Project
Make-A-Wish Foundation
Meals on Wheels Western South Dakota
Monument Health Cancer Center
Movers for Moms
Oglala Pet Project
Operation Black Hills Cabin
Parkinson's Foundation
Paws Animal Rescue
Pierre Area Referral Services
Rapid City YMCA
Readiatrics Book Drive
Ronald McDonald House
Saint Francis House
Salvation Army
Sioux Falls Area Humane Society
Sioux Falls Cares
South Dakota Schools
South Dakota Deployed Troops
Special Olympics South Dakota
STARS Rescue
Storybook Island
Sturgis Animal Shelter
The Banquet – Sioux Falls
United Way of the Black Hills
United Way of the Capital Area
United Way of the Sioux Empire
Veterans Homes Across South Dakota
VFW
Vitalant
Wakpa Waste
Western Hills Humane Society
Working Against Violence, Inc.
Youth and Family Services