BHFCU HR Manager Selected for Elevate Leadership Institute Class of 2024
Our mission to improve lives is brought to life daily by our nearly 400 staff members. That's why it was no surprise when August Hicks, Human Resources Manager, was selected for Elevate Leadership Institute's class of 2024.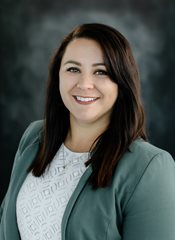 "I was very excited when I learned I'd been selected for the next Elevate Leadership Institute class," August said. "I have always been interested in a program like this; however, being former military, I was never in a community long enough to really put down roots and get involved."
Elevate Leadership Institute's mission is to better the region's future by instilling individuals with leadership qualities and perspectives that mold everyday actions. Since August made Rapid City home, she has been seeking out opportunities to not only grow herself but also to give back.
"I'm excited to get to know our community and build strong relationships with fellow leaders," August said of the program. "It's an honor to be part of a cohort filled with incredible people who are passionate about South Dakota and making our community an outstanding place."
An Oklahoma native, August traveled the world after joining the Air Force in 2009. She called Japan, Utah, Honduras, Florida, and Kuwait home before settling in Rapid City after being honorably discharged in 2019. It was an easy choice to make Rapid City home after experiencing its resident's kindness and the beauty of the Black Hills.
A Human Resources professional through and through, August's passion is people. After hearing glowing reviews about BHFCU throughout the community, she eagerly applied for the Human Resources Manager position. Before joining the BHFCU team in May 2022, she worked in education and veteran affairs.
"I love working with BHFCU employees through each stage of their career. Each day is a fresh opportunity to help improve their lives," explained August. "I am grateful to be allowed to work in a position that has an impact throughout the organization."
As Human Resources Manager, August enjoys being part of the employee journey, from getting them in the door for an interview to helping them prepare for growth opportunities and fine-tune their skills. In her time at BHFCU, she has streamlined processes and training. She proudly boasts that if she could live in an Excel spreadsheet permanently, she would.
When she's not helping employees reach their goals, August enjoys hiking with her husband and three dogs, socializing with friends, and traveling. You can regularly find her with a book in hand or in the kitchen whipping up something delicious.
From all of us at BHFCU, congratulations August for the well-deserved recognition as a 2024 Elevate Leadership Institute class member.