BHFCU Employee Earns CUDE Designation
Black Hills Federal Credit Union is pleased to announce that Steve Pierce, digital services manager at BHFCU, has successfully completed the National Credit Union Foundation's Credit Union Development Educator Program and earned the organization's distinguished CUDE designation.
To earn the designation, individuals must complete experiential training covering the education and application of credit union business principles and philosophy. Attendees develop competencies in key areas that focus on overcoming economic and social development issues. Pierce joins more than 4,500 CUDE designees worldwide.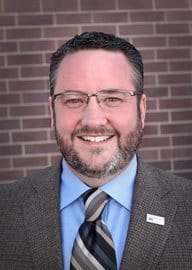 "The CUDE Program took us on a tremendous journey back to the origins of the credit union movement," said Pierce. "And along the way, we discovered how the cooperative principles, especially concern for our communities, are more relevant than ever to personally serve each of our members' financial needs."